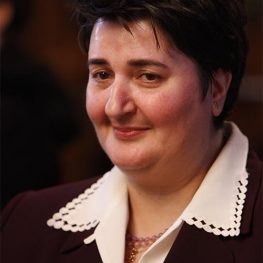 Marta Christina Suciu
Professor, PhD - BUCHAREST UNIVERSITY OF ECONOMIC STUDIES
CURRENT POSITION: University professor, PhD, Department of Economics and Economic Policies. PhD supervisor and CSUD member, "Economy 1" field, Academy of Economic Studies of Bucharest. Vice-dean, responsible for the activity of Research-Development-Innovation, Faculty of Theoretical and Applied Economics (FAETA). Teaching and research activity at FAETA (holder of the course "Research Methodology", Master Program "European Economy" and at FABIZ, English section (holder of courses with teaching in English: "Microeconomics" and "Macroeconomics" in the cycle of license as well as "Creative and Innovative Management", the Master Program "Business Administration".
MAIN AREAS OF EXPERTISE / EXPERTISE:
Dedicated trans and interdisciplinary research: economy and society based on knowledge and innovation. Micro & Macroeconomics. Economic policies. Creative economy and entrepreneurship. Creative-innovative management. Intellectual capital. Investing in education. Regional development. Intercultural dialogue.
Key note speaker (ECIC 2014; GOAL, 2012; Cairo, 2006). Moderator, member of the organizing committee and evaluator at international conferences: ECKM (2009-Italy, Vicenza, 2010- Portugal; 2011- Germany, Passau; 2012- Cartagena, Spain; 2013, Kaunas, Lithuania, 2015, Italy, Udine ) ECIC (2010-pretent); IBIMA (2010, Istanbul; 2012, Barcelona; 2014, Vienna). Discussant for the doctoral students section (JURE / EARLI; Munich, 2013); Rapporteur (ECCS; Paris, 2005)