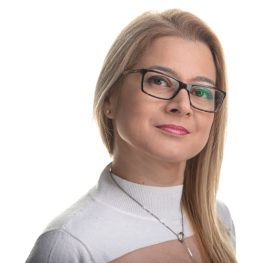 Georgiana Oana Stănilă
Associate Professor, ASE
Georgiana Oana Stănilă is an PhD Associate Professor at the Bucharest University of Economic Studies, Department of Accounting and Auditing and Vice Dean of the Faculty of Business Administration in Foreign Languages.
She holds a Bachelor degree in Economics, from the Bucharest University of Economic Studies, the Faculty of Accounting and Management Information Systems, a Bachelor in Laws, a Master degree in English Language Education and Research Communication for Business and Economics  from The Faculty of International Business and Economics, an Postgraduate Specialization in Company accounting based on International Accounting Standards, and a PhD in Accounting.
Additionally, Oana thought as Visiting Professor at KU Leuven in Belgium.
She is the author of several books, articles and scientific materials, as the sole author or as co-author, member in research teams and teaches Accounting, Financial Accounting, Managerial Accounting. Examples of research as contributor are New models of financing and financial reporting (Palgrave Macmillan, 2019), Financial Reporting: IFRS in Romania(Palgrave Macmillan, 2019), Reframing business reporting in a Big Data world (2019), Corporate Attitudes towards Big Data and Its Impact on Performance Management: A Qualitative Study (2019).
Her field of research interests are mainly: Business Accounting, International Financial Reporting Standards, Financial Analysis and Reporting, Performance Management, Digital Transformation in Education field.
Courses